Advent Calendars (for the big kids!)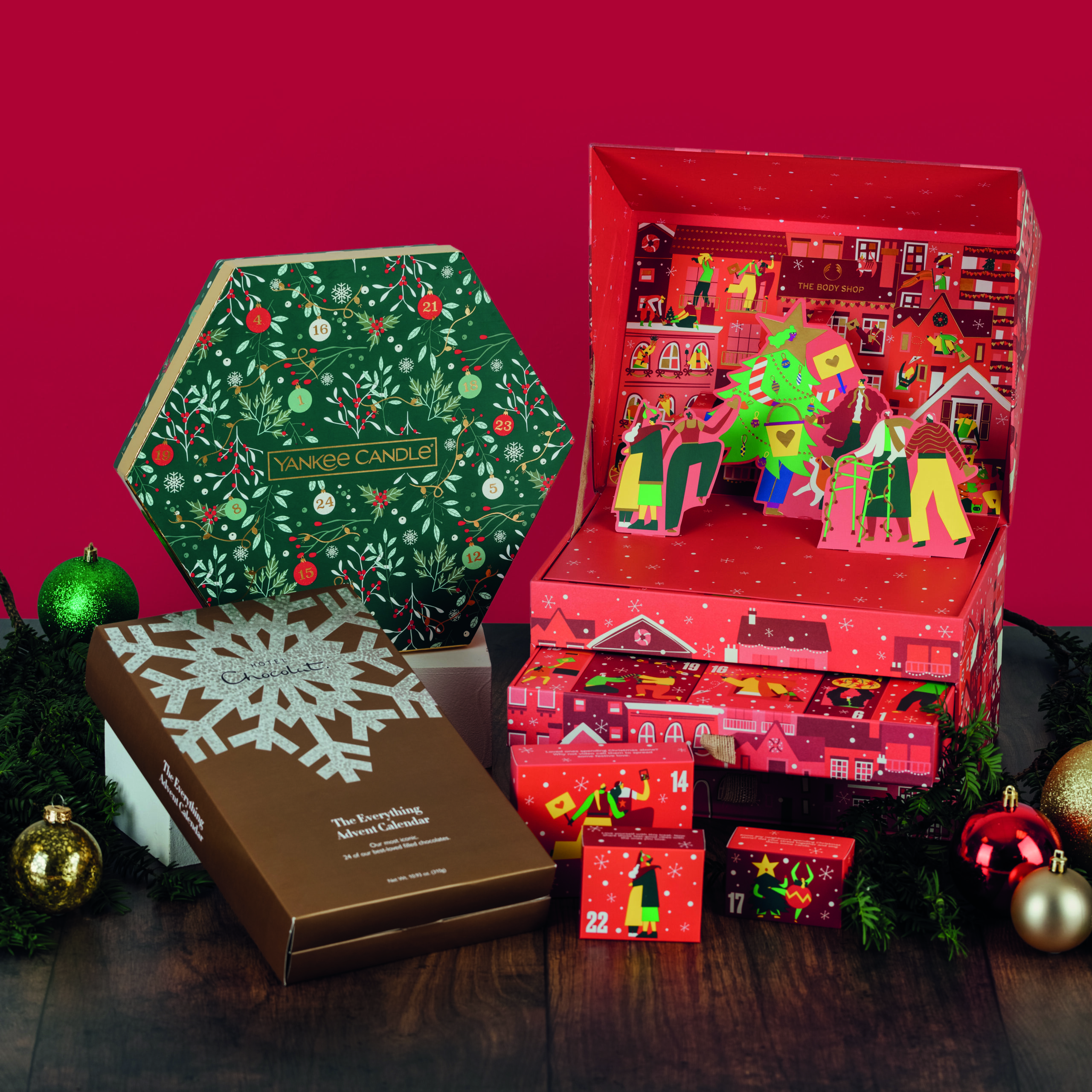 Everyone can enjoy the countdown to Christmas – no matter what age. Choose from sweet treats, beauty or health and well-being. Weather you are looking to take time out, party or indulge there is something for every big kid this December.
Countdown to Christmas Day with the 25 body-loving treats hiding inside Share the Love Big Advent Calendar from The Body Shop.
Not only does their new beauty advent calendar have an amazing pop-up construction that transports you to a joyful Christmas world. It's packed with some seriously good head-to-toe treats for keeping you and that beautiful body pampered all season.
We don't want to spoil the surprise, but we'll give you some hints on what you might discover inside…such as our new, full-sized Avocado Body Butter for nourishing dry skin with 96hr moisture. Maybe you'll find our mini, skin-tingling Himalayan Charcoal and refreshing British Rose face masks. There might even be a Hand Cream or two for keeping palms and pinkies feeling hydrated all season.
The pop-up beauty calendar's unique drawer construction is also perfect for storing your crafts and other little bits and bobs, which means it can be reused long after Christmas too!
Share the Love Big Advent Calendar, The Body Shop, £80.00
This Yankee Candle gift set holds eighteen festive scented Tea Light Candles including Twinkling Lights, Tree Farm Festival, Letters to Santa, Christmas Eve Cocoa, Candlelit Cabin and Christmas Cookie. Also included in the set is a gold-plated Tea Light Holder.
The Countdown to Christmas is a magical time of year filled with twinkling lights, festive treats, and the joy of sharing heartfelt gifts with family and friends. It's a time of anticipation, excitement, and an invitation to reflect on what's most dear to us.
Make each moment of the festive season merry and bright, with the inviting glow of candles in fragrances that capture the delight of Christmases past and present, from the Yankee Candle Countdown to Christmas Collection and loved classic festive fragrances.
Countdown to Christmas Advent, Yankee Candle, £24.99
Move beyond the standard calendar chocolates and treat yourself to 24 decadent pralines, truffles, and liqueurs. The only challenge with the Hotel Chocolat Everything Advent Calendar is trying not to eat them all at once!
We all know Christmas Day is a time of indulgence, but why not make the lead-up notable too? Whether you like dark, milk, or white chocolate, there's an iconic treat to cover every genre. And with a newly-updated menu, you'll find some of your all-time go-to's and maybe even discover a new favourite.
Perhaps you'll find a crunchy Florentine Isabelle, Peanut Butter, or creamy Hazelnut Praline — perfect for those who like their chocolate to have a subtly sweet, nutty edge.
And if fruity flavours are your thing, there may be a Mango Smoothie waiting for you. Bring a bit of sunshine to a cold winter's day with the fragrant notes of tropical mango, enrobed in a creamy layer of high-cocoa-butter white chocolate.
There are dessert-inspired nibbles, too. Treat yourself with the sinful indulgence of our Caramel Cheesecake, or maybe you'll find a refreshing option in our Lemon Cheesecake. What's more delicious than a slab of carrot cake? Well, we'd argue our chocolate rendition is close competition! Lightly spiced with cinnamon and nutmeg, our Carrot Cake bite is ideal for the festive season.
Of course, no Christmas would be complete without a tipple. The award-winning Salted Espresso Martini truffle has just the right amount of booze to tantalise your taste buds and warm the cockles of your heart.
What else will you discover?
The Everything Advent Calendar, Hotel Chocolat, £26.00
Next
View All Gift Guides