Prev
Kids Gift Guide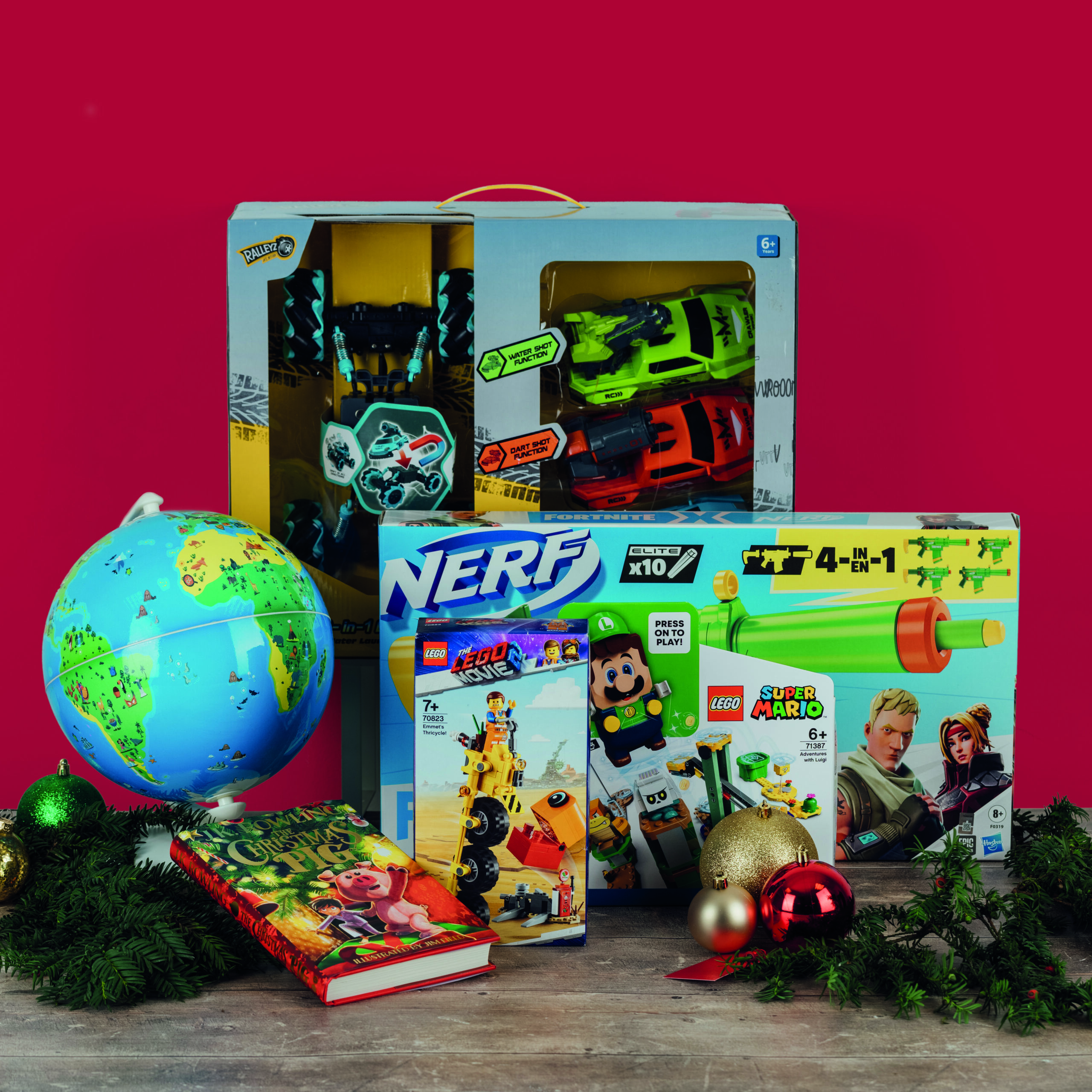 We've rounded up the top gifts and toys which are guaranteed to be featuring on Christmas wish lists this year.
Buckle-up and prepare for a rocky and riotous RC ride with Hamleys Ralleyz Warrior 3 in 1 RC Drifter.  This 4-wheel drive remote control buggy comes with 3 interchanging heads, which can be easily switched. The 3 attachments shoot water, bubbles and darts, fantastic for indoor and outdoor play. This awesome 4-wheel drive remote control buggy boasts smooth-steering and strong climbing features, as well as a 360-degree free-rotation and multi-function drift – all perfect for off-road drives across varying terrain.
Ralleyz Warrior 3 in 1 RC Drifter, Hamleys, £83.00
Spark their imagination and creativity with the award-winning STEM toy Shifu Orboot.
Explore the world with 400+ highlights and 1000+ cool facts across 6 categories – cultures, cuisines, monuments, inventions, animals and maps.
Shifu Orboot, Hamleys, £60.00
Find The Christmas Pig at WH Smith. A tale for the whole family to fall in love with, from one of the world's greatest storytellers, J.K. Rowling.
A heartwarming adventure about one boy's love for his most treasured thing, and how far he will go to find it.
JK Rowling's The Christmas Pig, WH Smith, £10
A must-have for all Nerf and Fotnite fans this Christmas, the Nerf Fortnite SMG-Zesty blaster is inspired by the Zesty Wrap in Fortnite.
Fortnite X Nerf SMG-ZESTY, Hamleys, £37.00
Bring the famous game to life with this LEGO Super Mario Adventures with Luigi Starter toy for kids 6 years old and up. The LEGO Super Mario Luigi toy offers fans limitless ways to expand, rebuild, customize and create their own unique levels. Contains 280 pieces.
LEGO Super Mario Adventures Luigi Starter Course Toy, Hamleys, £50.00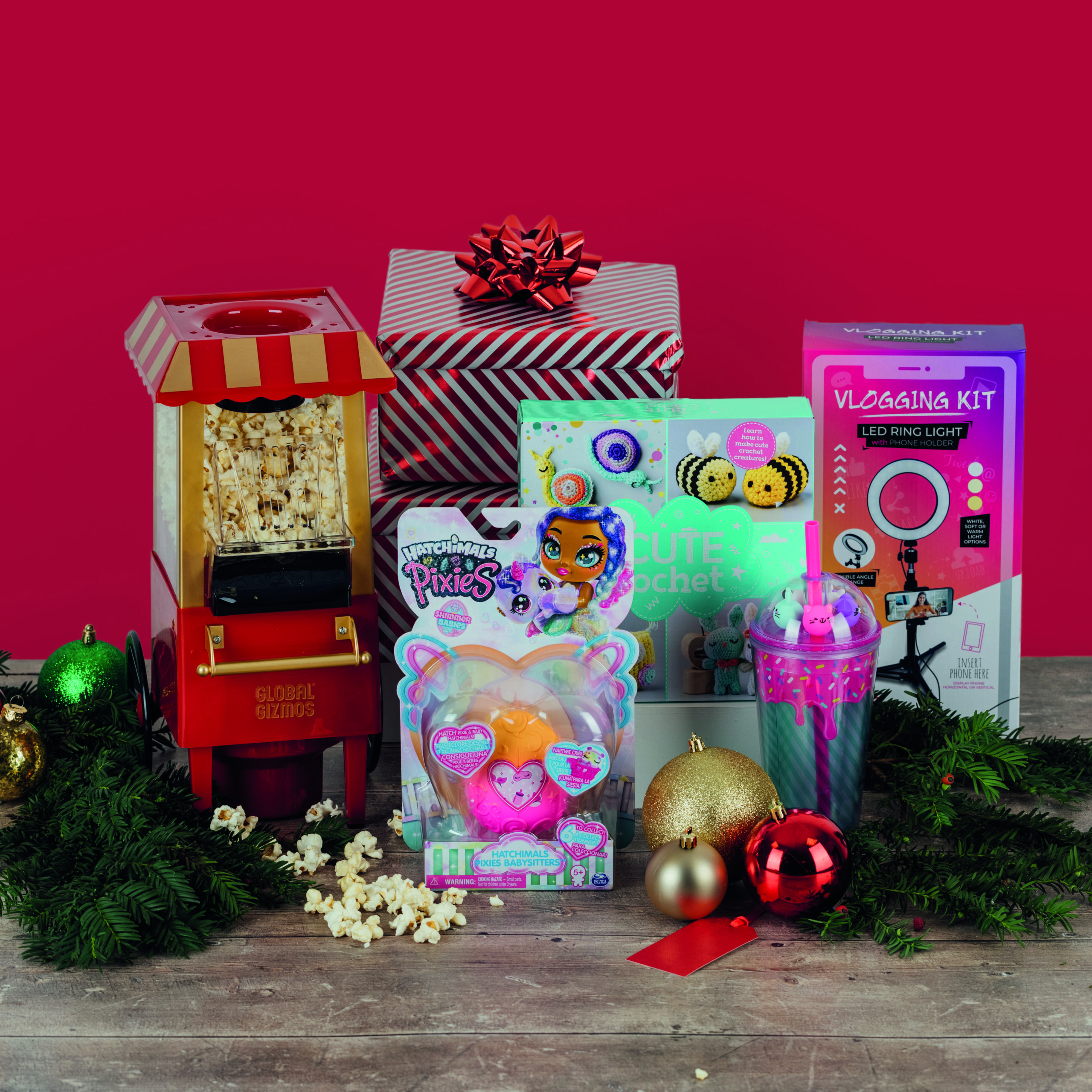 From TJ Hughes this red retro popcorn machine is a fun, easy-to-use accessory that the whole family can enjoy for movie night.
Popcorn Maker, TJ Hughes, £15.00
These super stylish Hatchimals Pixies have a unique look, with outfits and accessories inspired by fun activities, like roller skating, sleepovers, dance class and more!
Hatchimals Pixies Babysitter Too Cute s, Hamleys, £10.00
Lets get crafting! The Too Cute Crochet kit at Clintons comes with crochet hook and colourful yarn to make cute amigurumi creatures, small enough to fit in your hand or give as a gift.
Too Cute Crochet, Clintons, £6.00
A perfect gift for any budding vlogger. This RED5 Vlogging Kit includes an LED ring light with a tripod and built-in phone holder, which allows for vertical or horizontal display. The light has adjustable brightness and colour temperature, letting you choose between white, soft, and warm light. You can even change the tilt angle of the light.
Vlogging Kit, Boots, £20.00 (inc. in 3 for 2 offer)
Keep your favourite drinks cold or hot with this 3D critters tumbler from Claires. With an ultra-cool, pink straw and dessert-themed tumbler, these critters are just-in-time for dessert.
Character Re-useable Cup, Claires, £16.00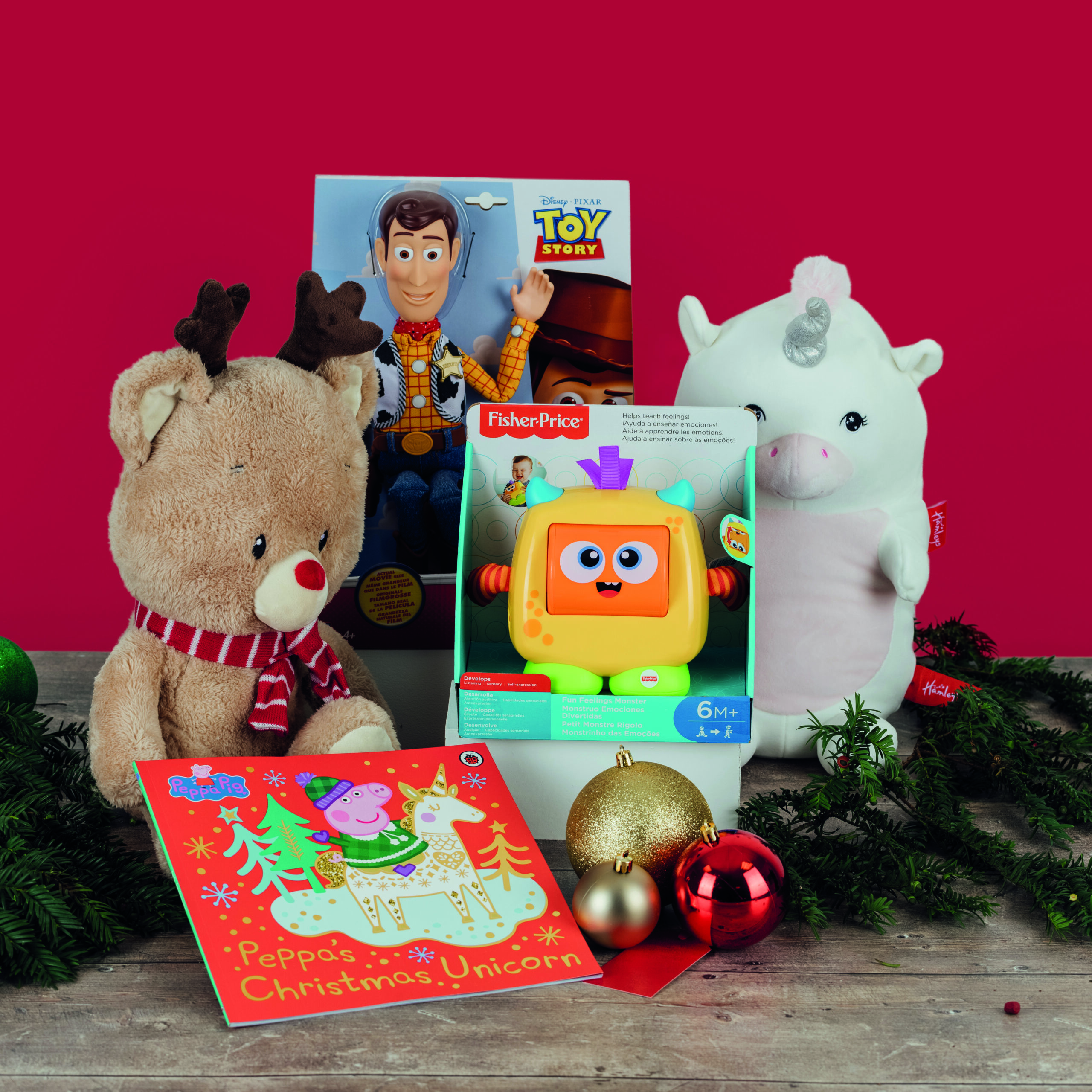 You've got a friend in me…… everybody's favourite Toy Story character Woody will be a hit with any Toy Story fan this Christmas.
Toy Story Woody figure, TJ Hughes, £14.99
Cuddle up with one of Santa's cosy Reindeer helpers
Reindeer Bear soft toy, Clintons, £4.99
Monsters have feelings, too! Sometimes they're happy, sometimes they're sad, and sometimes they can be … SURPRISED! Fisher Price Feelings Monster with just a bat, baby can send the little monster's roller face spinning – and get to see what each feeling looks like and how it sounds.
Fisher price Feelings Monster, TJ Hughes, £9.99
Meet Hamleys Huggable Unicorn; part of its super squishy, duper lovable new range of cuddly toys and perfectly sized for the littlest of huggers.
Huggable Unicorn, Hamleys, £16.00
The new Peppa's Christmas Unicorn picture book is the perfect Christmas present for Peppa and unicorn fans everywhere! It's Christmas Eve, and Peppa and her family are off to a Christmas fair.
Peppa's Christmas Unicorn, WH Smith, £6.99
Next
View All Gift Guides