Prev
Novelty Gifts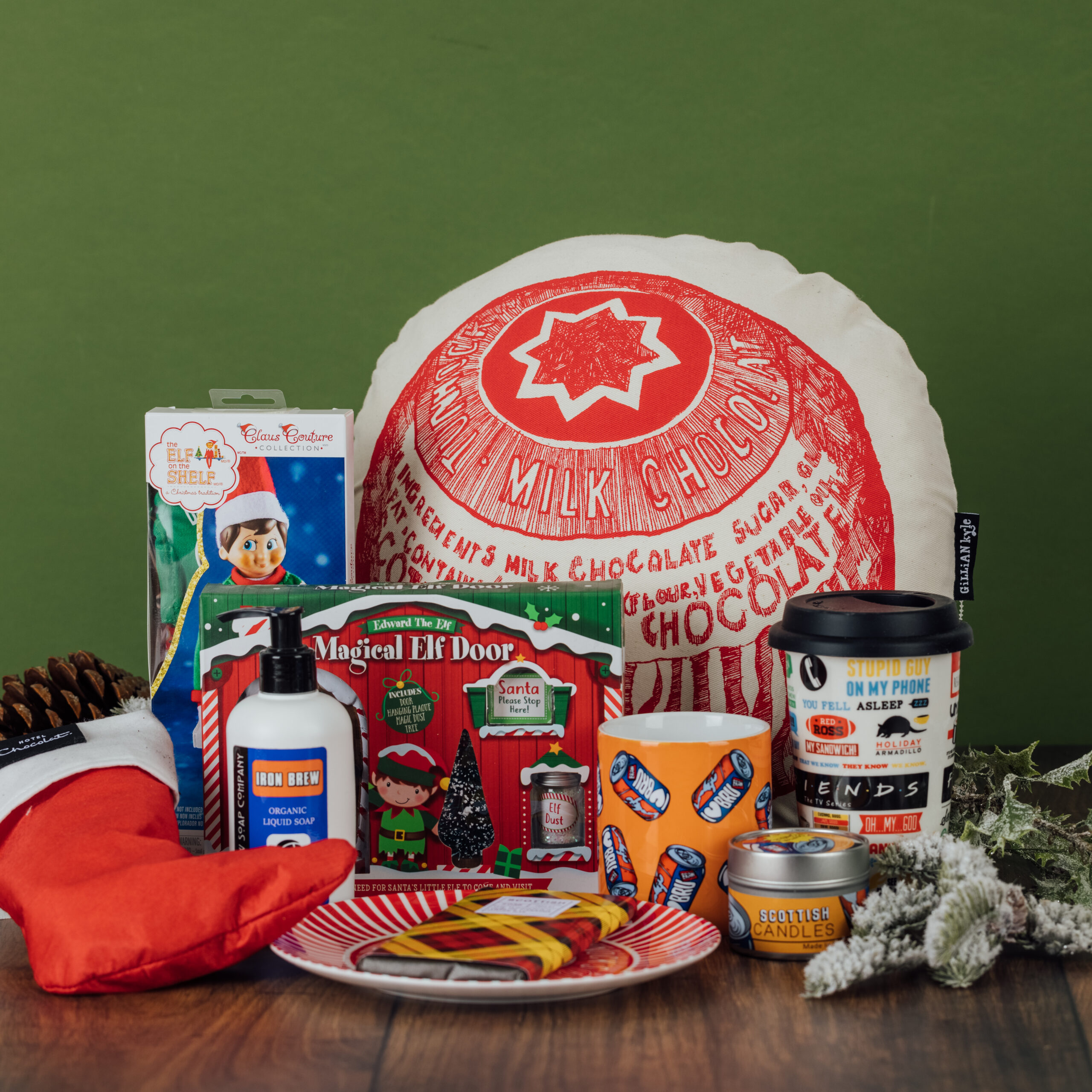 This wish list has everything to keep it fun this Christmas. Quirky and a little unusual……there is something for everyone.
The Tunnock's Tea Cake Wrapper Biscuit Plate from Born in Scotland honours the wee foil wrapper that we all know and love. Designed in the 1950's,  it's a piece of nostalgia that has earned its iconic status. The plate is the perfect size to serve a round of biscuits and will brighten up your kitchen with a vibrant splash of Tunnock's red.
Tunnocks Teacake Plate, Born in Scotland, £20.00
Hand-drawn illustration of great Scottish delicacy – the Tunnocks Teacake – printed onto a natural cotton linen base. This unique Tunnock's cushion is a really fun way to add a splash of colour to your home; great for piling up on the sofa or making your favourite chair a wee bit more comfy
Tunnocks Round Teacake Cushion, Born in Scotland, £45.00
Handmade chocolates celebrating your favourite Scottish flavours.
Tunnocks Tribute Chocolate Bar Born in Scotland, £5.50
The Irn Bru GLORIOUSLY illustrated mug makes for the perfect Scottish gift!
I Love Bru's (multiple) Mug, Born in Scotland, £12.95
Love Bru! In all forms/shapes & sizes.
Irn Bru Candle, Born in Scotland, £12.95
The Born in Scotland Iron Brew Organic Liquid Soap (250ml) is formulated from Organic Oils which are guaranteed free from pesticides, they are sustainable and are not genetically modified.
Iron Brew Hand Soap, Born in Scotland, £9.95
Hotel Chocolat have decked the halls, trimmed the tree… the only thing missing? The Christmas chocolates — Hotel Chocolat have everything you need to make the Festive season sweet. Advent calendars to count down the days, warming hot chocolate to come home to and the ribbon-wrapped Christmas chocolate gifts for your Nice List.
The Red Stocking, Hotel Chocolat, £10.00
Elf on the Shelf is a Christmas tradition which involves toy elves being placed around the home during December to keep an eye on whether kids are being naughty or nice. These props are ideal for helping create the daily mischief the naughty elf gets up to.
Magical Elf Door, TJ Hughes, £10.99
Elf on the Shelf Stocking, TJ Hughes, £8.95
A re-useable cup for on the go and for all the Friends Fans out there!
Friends Re-useable Cup, Inside Out, £5.00
Next
View All Gift Guides