Prev
St. Enoch Centre Opens Single-Use Plastic-Free Shop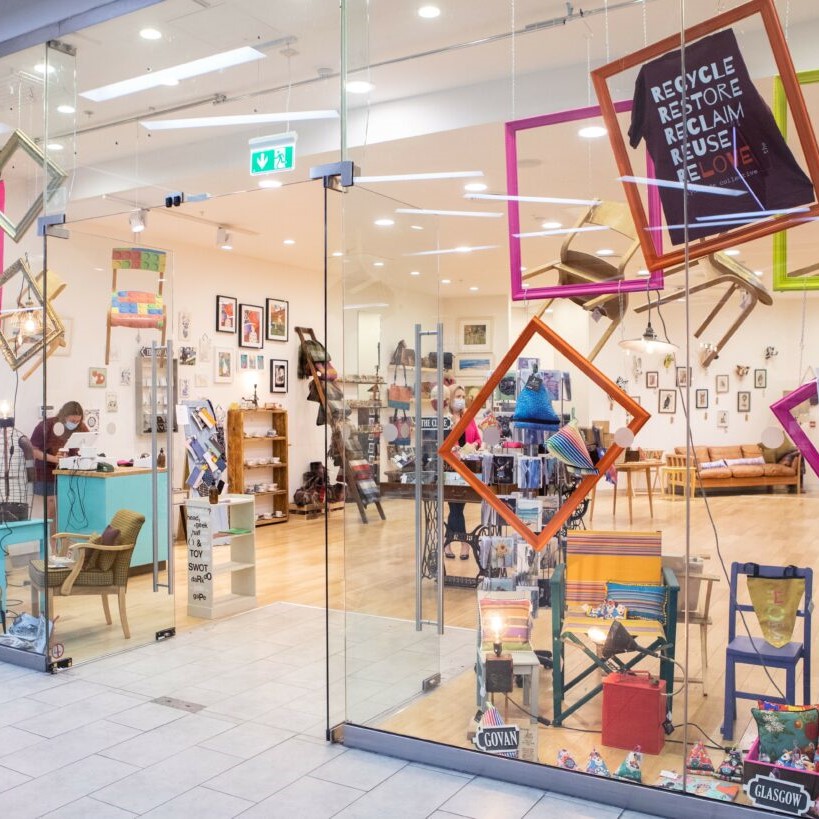 Sustainable retailer, The Clydeside Collective have opened the doors to their first Glasgow store, which is completely single-use plastic-free, at St. Enoch Centre as part of their campaign for sustainability.
The award-winning initiative brings together creatives of every kind who each share a passion to reuse, recycle, reclaim, and resell items that may otherwise have been destined for landfill.
And to mark the launch of the new store in the heart of the city, 50 hand-crafted, wooden robot sculptures have been hidden across Glasgow.
The robots are the work of Jane and Eric from JaneR Designs, two artists from The Clydeside Collective. Each unique figure is 12" tall and has been lovingly reimagined and handcrafted from old wooden fixings.
Anyone who finds one of the eye-catching sculptures is asked to take a photo and tag The Clydeside Collective on social media for a chance to win a prize in addition to their unique piece of robotic artwork.
Sara Thomson is the brainchild behind The Clydeside Collective and she explained the inspiration behind the robots.
She said: "Our resident artists are unbelievably talented when it comes to envisioning new uses for old items. We hope these reimagined robots capture the attention of Glasgow locals and help to raise awareness of the importance of reprogramming our throwaway mentality'.
The Clydeside Collective follows the success of The Leith Collective, which opened in Edinburgh's Ocean Terminal in 2019 and since earned the title of the UK's first ever single-use plastic-free shop of its kind.
This ethos can also be seen in the new store in St. Enoch Centre which has been created to provide a platform for established and emerging eco-friendly artists and deliver valuable support through their business mentorship programme. The venue will also play host to a range of inspiring events and workshops, designed to boost the local community.
Amongst the distinctive work is a range of lamps, where the artists have worked with whatever they have found, reusing, reimagining and reinventing vintage things with a story to tell whilst creating functional and decorative products that will continue to be useful for years to come. Among the recycled materials used in the design of the lamps are box brownie cameras, a trombone as well as a blowtorch.
There is also stunning artwork made from recycled materials as well as eye-catching accessories and many more environmentally aware products.
Anne Ledgerwood, Centre Director for St. Enoch Centre, said: "St. Enoch Centre has a strong focus on sustainability and we are proud to welcome The Clydeside Collective and to support their very valuable work.
"As well as an impressive range of stunning one-off designs made from recycled materials, The Collective is also focused on campaigning for sustainability which has never been more important as the city looks ahead to welcoming COP26 later this year."
Next
View All News