About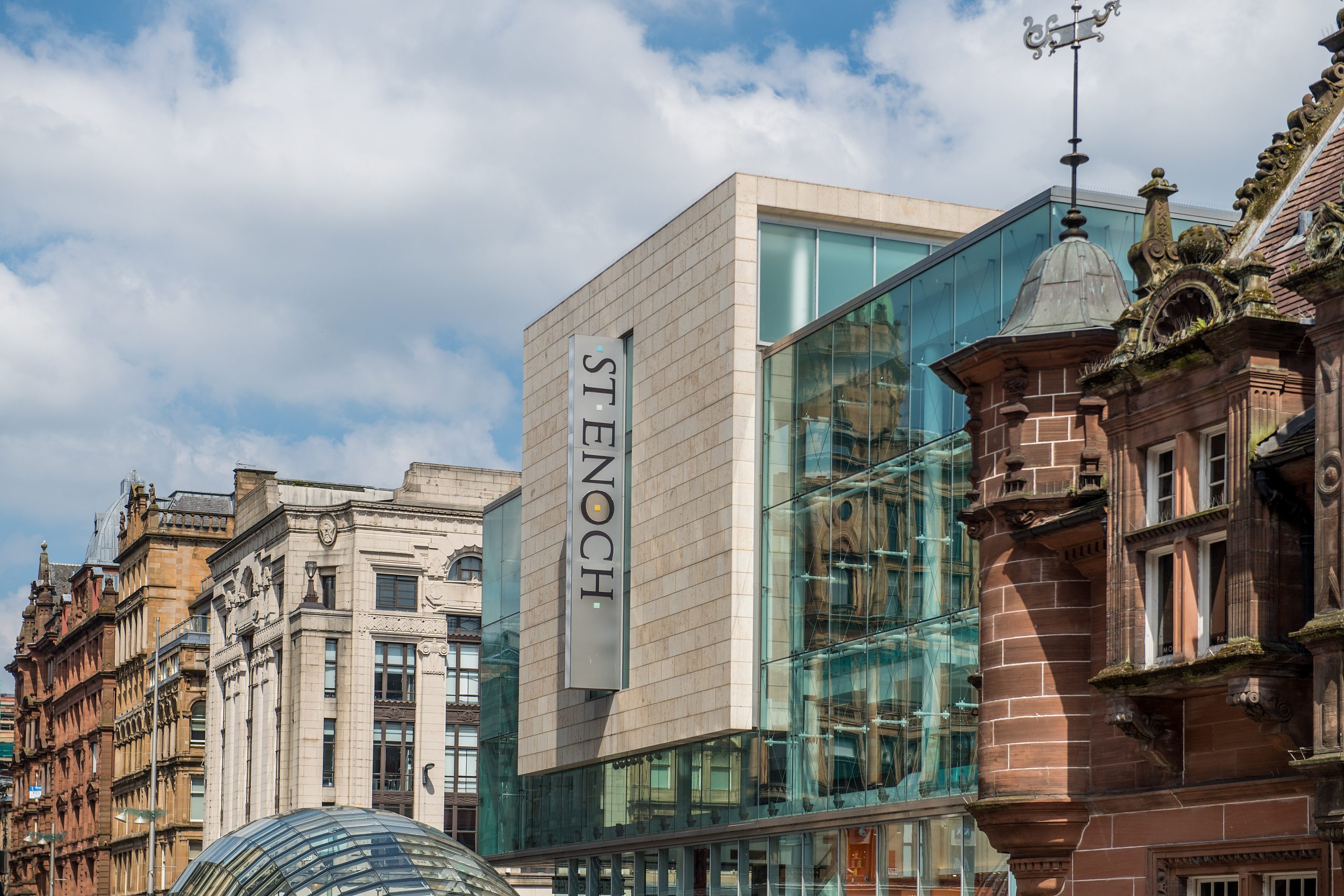 About St. Enoch Centre
Voted as one of the friendliest cities in the world, St. Enoch Centre is proud to call Glasgow home. For over 30 years, St. Enoch Centre has been at the heart of this stylish, vibrant and energetic City which is renowned for its stunning architecture, internationally-acclaimed galleries and museums, fantastic shopping and its unrivalled restaurants, bars and nightlife.
Situated at the junction between two of Glasgow's most famous shopping streets, Argyle St and Buchanan St, St Enoch Shopping Centre is easily accessed via Glasgow's transport network.
St. Enoch Centre History
Sitting alongside the iconic river Clyde, St. Enoch Square was originally opened in 1783 as a grazing area for sheep and since then it has seen some of Glasgow's finest landmarks come and go.
St. Enoch Railway Station first opened its doors in 1876 and the St. Enoch Hotel followed in 1879.
The St. Enoch Hotel was closed in 1974 and the site was used as a car park until 1985 when initial work started on St. Enoch Centre, the first shopping centre of its kind in Scotland.
Since opening on May 25, 1989, St. Enoch Centre has consistently led the way as one of the best shopping destinations in Scotland, inspiring the growth of Glasgow's vibrant retail sector.
About the new St Enoch Development
2021 marked a new chapter for St. Enoch Centre with the launch over 140,000 sq ft of exciting new retail and leisure opportunities all under one (glass pyramid) roof. The project is part of an ambitious £50 million development to transform the east end of the shopping centre.
Vue Cinema, a nine-screen all recliner cinema is now open, alongside  new restaurants – Cosmo, Nando's and Namaste by Delhi Darbar and exciting new leisure destinations Boom Battle Bar and Level X.
More exciting new retail, tasty restaurants, and amazing leisure experiences will open in 2023 including Philly's Steaks and Shakes.
Find out more about the exciting development masterplan.
St Enoch Supports the Community
As a central hub for the Glasgow community, St Enoch is known for championing local charities, causes and campaigns. From fundraising for Glasgow Children's Hospital Charity, ensuring accessibility for all, or tackling sustainability, St Enoch Centre is always there to support Glaswegians. After all, People Make Glasgow.
St Enoch Creates Employment
Visit the jobs page to browse current vacancies at St Enoch Centre.