Prev
Glasglow Girls Club takeover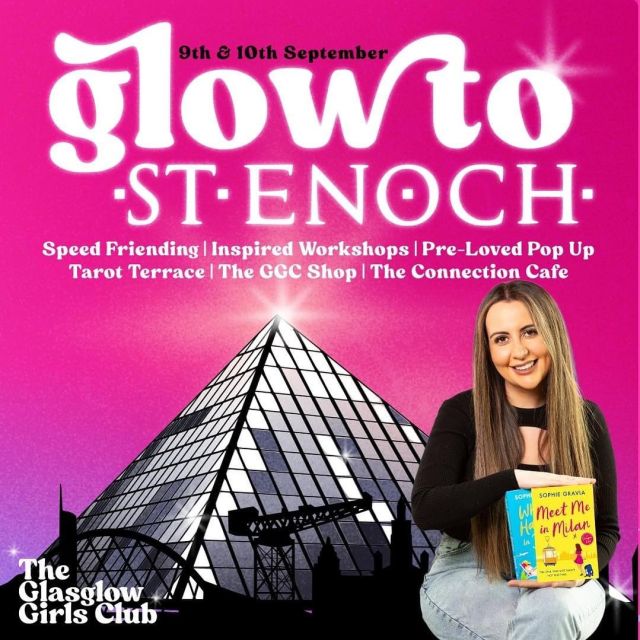 GLASGLOW GIRLS CLUB takeovers St Enoch Centre on 9-10 September. 
The first of it's kind, this pop up extravaganza will bring together Glasglow Girls Club members, local businesses and performers to create a weekend event in Glasgow like no other.
From entertainers and performers, an exclusive book signing with Sophie Gravia, flash mobs, silent discos, speed friending events, workshops, tarot readers and more, this event has been created to bring together the GGC community whilst supporting the many local businesses involved.
The Glasglow Girls Club is a bustling Facebook group of 40K+ women from Glasgow who have long been asking for events to support them to forge new friendships in the city. Step forward the GGC x St Enoch SPEED FRIENDING events taking place each day over the weekend.  Book here
Another hot topic in the group is the opportunity for selling at vintage fayres and 2nd hand selling spaces. Step forward the PRE-LOVED POP-UP which will be a major part of the GGC takeover.
And with a membership comprising of hundreds of business members, the GGC is always looking for inventive ways to provide them with a platform for promotion and selling – step forward the very first GLASGLOW GIRLS CLUB SHOP – opening for the first time over the weekend.
There's also a host of WORKSHOPS taking place over the weekend from arm knitting, manifesting love, creative writing, bottle lamp making, menopause, improving self-esteem and finding more time in your day.  There's something for everyone. Book here
Are ye dancing?  Join the amazing Yer Dancer for SILENT DISCOS including 70s, 80s, 90s, Pride, Kylie Minogue, ABBA and a special session for kids.  Book here 
Next
View All News